Signal with Visible Laser Kit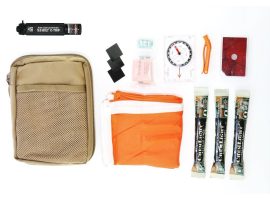 MXP-SSKB-VL1 Green Dot Laser
MXP-SSKB-VL2 Green Line Laser (as pictured)
MXP-SSKB-VL3 Green Dot and Line Combination Laser
The Mithix Pro Signal Kit was designed in cooperation with the US Army Special Ops for troops who may find themselves accidentally behind enemy lines or in emergency extraction / survival situations. Kit includes multiple means to visually signal, both day and night as well as directional and omni-directional devices. Other components include all-weather whistle, compass and friend or foe patches. All components come in small, lightweight MOLLE compatible pouch. Variations include visible light sources, Infrared versions and versions with Signal Lasers.