Self-Adhesive Anchor Pad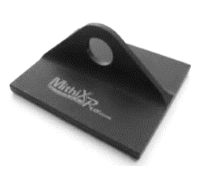 MXP-HL101-013 – Standard (as pictured)
2 1/2" x 3" Solid Aluminum Anchor Pads with adhesive backing pads. Used for purchase points and in conjunction with pulleys, lines and carabiners for lines of pull.
MXP-VBK-004 – Small
5 Pack
1 1/4″ x 2″ Solid aluminum anchor pad with adhesive backing, attaches easily to metal, wood, drywall, glass, and other clean dry material.  Minimum contact/cure time is required to achieve maximum working loads.  5/8" diameter hole allows for connection to main line or other line for pulling. This size is ideal in vehicle and building access applications for small lightweight cup holders, glove box latches, ashtray drawers, center console compartments, household small drawers and areas where larger adhesive pads don't fit. Heavy duty aluminum is specifically designed to allow these anchors to be reused over and over again, simply pry anchor from item its adhered to, remove remaining adhesive and clean the anchor, replace with fresh adhesive.