Pocket Search Mirror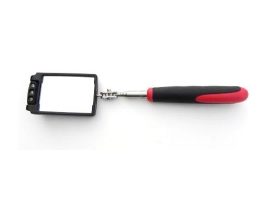 MXP-HL101-028 (lighted)
MXP-HL101-028B (non lighted)
Telescoping Pocket Search Mirror with LED lights. Mirror folds small for easy transport and storage or extends out to beyond 24 inches to look under/around objects. LEDs are ideal for close up white light, last an ultra long time on provided batteries and do not burn out like traditional incandescent bulbs. Non lighted version also availablel.