Personal Hook and Line Kit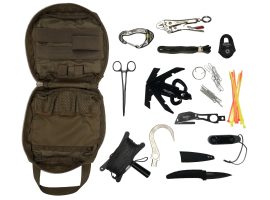 MXP-HL901 (with 100 ft of line)
MXP-HL901-200 (with 200 ft of line)
Personal Hook and Line Tool Kit for Explosive Ordnance Disposal (EOD / IEDD), Bomb Squad, Combat Engineer and Special Operations procedures. Features high quality components, stainless steel hook, compact line puller, clamp, strap cutter, high-strength micro pulley, low-stretch high grade Dyneema Rope, roller bearing carabiner, standard carabiner, MXP Grapnel Hook, endless loop slings, utility razor knife, assorted pin pack and a thigh/ruck attaching case with multiple pockets. This kit is specifically made for Improvised Explosive Device (IED), booby-trap, remote movement and remote handling operations.