Mithix Pro EOD / Spec Ops G10 Digging Knife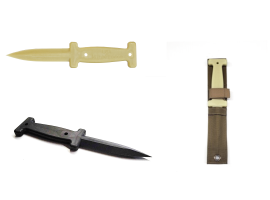 MXP-G10KNIFE (natural)
MXP-G10KNIFE-S (natural with sheath)
MXP-G10KNIFE-BL (black)
MXP-G10KNIFE-BL-S (black with sheath)
The Mithix Pro G10 Digging Knife is a heavy duty, high-durability digging probe made for digging and probing operations in austere environments. It has an overall length of approximately 10 inches with an approximate thickness of ½ an inch. It is non-metallic, non-conductive and non-magnetic making it well suited for operations in and around suspected IEDs and UXOs. It is machined from industrial grade super strong and reliable G10 material.  Available in black or natural color, with or without a sheath.  This tool is a must for EOD and similar operations.