Handle Clamp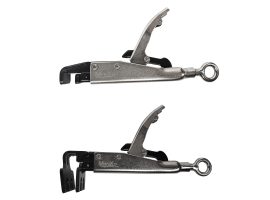 MXP-VBK006 – Narrow Handle Clamp
MXP-VBK005 – Handle Wide Clamp
10 inch Vise Jaw Grips with one-hand release and equipped with an anchor eye. Used in building and vehicle access for gripping smaller handles, levers, knobs, buttons, etc. Also used for securing to objects for purchase points and in conjunction with pulleys, lines and carabiners for lines of pull. Grips may also be used to grab objects to provide a means to remotely move to a safer location.