Button Pusher and Window Breaker Assembly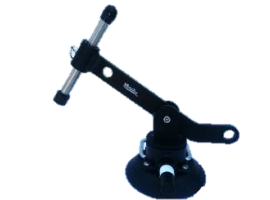 MXP-VBK001
Window Breaker Assembly
Spring loaded, self-resetting window breaker works on simple cantilever design.  The breaking/cutting tip is a long lasting cutter that has a total of three cutting edges that can be rotated when a fresh tip is required, this is done with simple hand tools.  The window breaker works with BOTH the suction cup anchor and supplied self-adhesive anchor. Easily adjusts for various heights with a spring loaded pull pin.
Button Pusher Assembly
Uses the reverse side of the Window Breaker Assembly.  Allows for the button pusher to attach near the button being pushed or pulled using the Suction Cup, the Self-Adhesive anchor pad or the Tripod Mount.  Various configurations can be used to push or pull buttons or other unique applications. Simple pull in the lever pushes the button in, opening the mechanism.  Easily adjusts for various heights in seconds with use of a spring-loaded pin.